Saying Goodbye To Gladys

The Marvelettes broke down racial barriers and bankrolled Motown with their early hits but in later years watched helplessly as they were almost completely erased from the label's history. One month ago group founder Gladys Horton was laid to rest. In the following days Charles Thomson spoke to her family, friends and fellow Marvelettes.

March 2011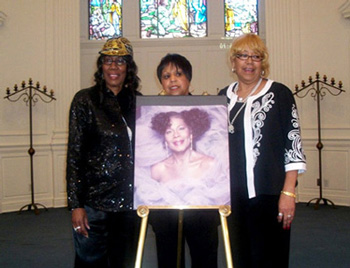 Former Marvelettes Georgia Dobbins, Juanita Cowart Motley and Katherine Anderson Schaffner pose at Forest Lawn's Church of the Hills with a picture of Gladys Horton. (Photographer: Larry Buford)

At just after midday on Tuesday 22nd February, roughly 50 mourners gathered inside the Church of the Hills at Forest Lawn Memorial Park, Hollywood. On a raised platform at the front of the white-walled, blue-carpeted room, beneath three large stained glass windows, stood a white and gold lectern surrounded by trophies, gold records and framed photographs of Gladys Horton, former lead singer of Motown's chartbusting girl group the Marvelettes.

Gladys Horton passed away, aged 66, on January 26th 2011. Her death has been widely attributed to complications following a stroke but it is unclear whether she was ever officially diagnosed as having suffered a stroke. Her son Vaughn Thornton tells me in an a phone interview the following day that in 1991 she suffered a bout of what she claimed was Bell's Palsy, but in recent years he has come to suspect that it was actually the first of several strokes which ultimately confined his mother to a nursing home.

Horton was a firm believer in cremation, friends and family say, so her body was cremated in the weeks following her death. Her ashes won't be scattered anywhere for the time being. February's memorial was an opportunity for family, friends and fans to celebrate Horton's life and career and to say their last goodbyes.

Plenty of Motown alumni came out to pay their respects. Former Marvelettes Katherine Anderson (now Schaffner), Georgia Dobbins and Juanita Cowart (now Motley) were present. Betty Kelley of the Velvelettes and latterly the Vandellas delivered a eulogy. Motown songwriter Janie Bradford and ex-Miracle Claudette Robinson (former wife of Smokey) sat together throughout the service. Latter-day Supremes Scherrie Payne and Susaye Green were also in attendance.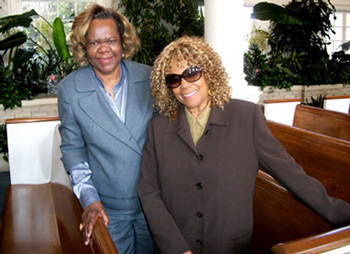 Motown songwriter Janie Bradford and former Miracle Claudette Robinson at Gladys Horton's memorial. (Photographer: Larry Buford)

In a ceremony which lasted roughly one hour, guests listened to Horton's infectious, adolescent vocal performances on an array of Marvelettes hits and watched a video presentation featuring pictures from her heyday – "There were pictures of my mother that even I hadn't seen," says Vaughn Thornton.

Thornton, wearing a black suit and a red tie, dabbed tears from his eyes as he read a eulogy from the lectern, telling the congregation that his mother had given he and his brothers a 'rich upbringing' but that he'd never realized how famous she was because she didn't speak much about her time at Motown. When Katherine Anderson Schaffner took her place behind the lectern, she went some way towards explaining why. Schaffner's eulogy denounced the poor way in which she felt the Marvelettes had been treated by Motown both during and after their time at the label.

Berry Gordy is worth hundreds of millions of dollars, she tells me the next day, and if he'd given up just a fraction of the money he made from selling Motown and his Jobete music catalogue, he could have lifted a lot of old Motown stars out of relative poverty.

"He could have given the artists that helped to start [Motown], and some of those that sang for him after he got started, a million and a half dollars apiece so that they could live comfortably in their golden years," she says. "He didn't do that and I thought that was extremely unfair because Berry made a lot of money off of us kids – because we were all kids back then – and I felt that if he had just given a million and a half dollars to each one of us, it wouldn't have hurt him at all. It would have been a drop in the bucket."

Schaffner's suggestion may seem unrealistic to many, but if any group deserved a pay-out from Berry Gordy it was the Marvelettes. The group's 1961 debut single Please Mr. Postman was the label's biggest hit to date, earning Motown its first number one single. As the Marvelettes' hits kept bringing in revenue throughout 1962, the group's success essentially bankrolled the label as well as popularising it. There's a strong argument to be made that if there'd been no Marvelettes, there might never have been a Motown as we know it today.

Given the group's vital role in Motown's history, its members have been subjected to some shocking treatment over the years, from having their royalties cut off to being excluded from the label's anniversary celebrations. While there were plenty of Motown alumni at the Forest Lawn memorial, others were conspicuously absent. Berry Gordy wasn't there. Neither was Smokey Robinson. Diana Ross may never have had a career if it weren't for the Marvelettes, who created the template for subsequent Motown girl groups – but she too was absent; along with many more of Horton's former label mates.

But Katherine Anderson Schaffner is unsurprised by these Motown stars' absence. "Why would you expect them [now] when they never did anything for us when we were singing?" she asks. "Why the hell would you expect them to be at the memorial?"


The Rise

Often referred to as Motown's first girl group, the Marvelettes were in factthe label's second. The Supremes, then known as the Primettes, began releasing tracks on Motown in March 1961 – almost six months before the Marvelettes' first single was issued. But early Primettes singles failed to make any significant impact, so while the Marvelettes may not have been the label's first girl group, they were the first to deliver a hit. In fact, Please Mr. Postman became the label's first number one record and only its second million-seller (Shop Around by the Miracles was the first). No small feat for five high school girls from Inkster, a poor suburb built to house black factory workers.

The original five members of the Marvelettes – Gladys Horton, Katherine Anderson, Georgeanna Tillman, Juanita Cowart and Georgia Dobbins – sang together in the Inkster High School glee club. When the school announced a talent contest – first prize being the opportunity to audition for Motown – it was Gladys Horton who suggested that the girls form a group.

Born in Gainesville, Florida, Horton was an orphan by her first birthday and spent her childhood in a succession of foster homes before she eventually wound up in Inkster. A life in care had left Horton strong and determined beyond her years so it was no surprise that despite being the youngest of the five friends, it was Horton who put the group together. Calling themselves the Casinyets ('Can't Sing Yets'), the five friends – with Katherine Anderson on lead vocal duties – performed a Chantels number at the talent show and took fourth place. However, school counselor Shirley Sharpley was so impressed by the girls that she secured them a Motown audition anyway.

After performing the Chantels number for Motown boss Berry Gordy the girls were asked to come back with an original song. Georgia Dobbins contacted a songwriter friend, William Garrett, who gave them a half-written blues number called Please Mr. Postman. Dobbins rewrote the track almost from scratch and the girls, now calling themselves the Marvels, returned to Hitsville and performed the song for Berry Gordy.

"It was like he was blown away," says Juanita Cowart Motley. "He was in awe of these five young girls from Inkster. He was very enthusiastic."

Gordy rechristened them the Marvelettes and gave them a contract but the group would undergo some line-up changes before they began recording. Katherine Anderson was removed from lead vocal duties and replaced with 15-year-old Gladys Horton – "Berry said my voice wasn't commercial enough," she recalls. "Then Georgia Dobbins left before we signed the contract. She didn't wanna quit. Her father wouldn't sign the contract because her mother was ill."

Dobbins was replaced with Wanda Young, who wound up alternating on lead vocals with Gladys Horton, and Berry Gordy had songwriters Brian Holland and Robert Bateman pen an arrangement for Please Mr. Postman. With the line-up finalized and the track perfected, the group was ready to record.

"It was just like a dream come true," gushes Juanita Cowart Motley. "We used to sing all the time in the classroom or on the street corner, so to be at a studio? Oh, I just can't explain it. It was just too much. Picture a child in a candy store. It was very exciting."

Featuring Marvin Gaye on drums, Please Mr. Postman was released in August 1961 and remains a classic 50 years later, having been covered by the Beatles and the Carpenters. It stayed in the chart for more than three months and hit number one on both the pop and R&B charts, giving Motown its first bona fide number one record.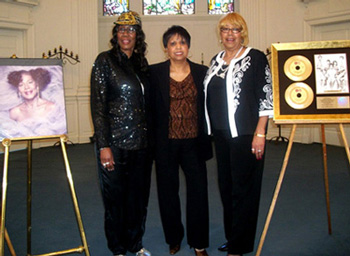 Georgia Dobbins, Juanita Cowart Motley and Katherine Anderson Schaffner pose with their gold record for Please Mr. Postman. (Photographer: Larry Buford)

The song's success became a watershed moment in musical and cultural history. In her 1998 book Women of Motown, Susan Whitall wrote, "[Please Mr. Postman] was part of the first wave of records by black girl groups that crossed over and totally seduced the white record-buying public. If you were anywhere near a radio in 1961 and heard Please Mr. Postman, you were witnessing, perhaps for the first time, the pop-R&B, uptown-downtown, urban-suburban blend that became Motown's trademark and was no less than revolutionary at the time. The Marvelettes, like many Motown groups of the time, erased racial lines and created a new sort of omniracial teenage voice."

But the song didn't only have cultural significance – it also had huge commercial significance for Motown. "The million-selling success of Please Mr. Postman put the industry on notice that Motown would continue churning out hit records, and they were able to use this leverage against the notoriously slow paying distributors," wrote Marc Taylor in his book The Original Marvelettes – Motown's Mystery Girl Group. In other words, the Marvelettes' success bankrolled the label, which had until then had only one truly successful single; The Miracles' Shop Around.

Throughout 1962 the Marvelettes were Motown's most consistently successful act, with singles like Twistin' Postman, Playboy, Beechwood 4-5789, Someday Someway and Strange I Know all reaching the top 15 on the R&B chart with strong lead vocal performances by young Gladys Horton. But, says Motown star Martha Reeves, even as 16-year-old Horton was knocking out the hits that were keeping the company afloat, she remained humble and generous.

"In 1962 I went for an interview with William Stevenson in the Motown A&R department and he asked me to answer a phone," says Reeves. "I was left in that office for four hours and wound up staying there and answering the phone for nine months. Gladys was one of the first artists who I spoke to as a secretary. She called the office on the day that I went in for my interview.

"I said, 'A&R department, can I help you?' and she said, 'Who is this?' I said to her, 'This is Martha Reeves and I'm answering the phone for William Stevenson, may I help you?' She said, 'Girl, I'm coming down there to see who you are because there ain't never been no A&R secretary! I'm coming down to see what you look like.' And she did come in that day and we had a nice chat and we got to know one another. She was very, very friendly.

"As our group developed, Gladys even gave us some of the dresses that the Marvelettes had worn and were not using anymore, so we could get started. I remember having some of their costumes altered for me and [Vandellas singers] Rosalind and Annette so that we might continue our journey in showbusiness. So she was a very sweet and kind woman - and very funny. She always had a great sense of humor and she always made me smile whenever she said anything because she had such a sweet way, but a comical way, of putting things."

By late 1962 Juanita Cowart had stopped performing with the Marvelettes. "I had a breakdown," she explains. "It came on slowly. We really didn't rest well and the eating wasn't as good as what I was accustomed to. We were really moving around a lot, going from city to city. It took me about two months to recover and I thought I would be better off not going that way again. It wasn't for me. I did record other songs later on, though. Even though I wasn't travelling with them, I would go to the studio with them and record songs for maybe another year or so."


The Fall

In 1963 none of the group's singles managed to hit the top 40 but in 1964 Too Many Fish In The Sea, featuring another lead vocal by Gladys Horton, hit number 25 in the pop chart and number 15 in the R&B chart. However, despite this boost 1964 would prove the beginning of the end for the group's days as a priority act at Motown.

That year the group was offered a song called Where Did Our Love Go. They turned it down and Wanda Young later described it as, "absolutely ridiculous. The most pitiful tune we'd ever heard."

The label gave it to the Supremes, who also hated it but recorded it anyway and wound up scoring their first number one hit with it. The Supremes would fast become Berry Gordy's main priority and other artists began to fall by the wayside – particularly girl groups. As Gordy began passing much of the label's best material to the Supremes, they racked up another four consecutive number ones.

Meanwhile, success proved elusive for the Marvelettes. Katherine Anderson Schaffner says that she always felt the group got less help than other acts on the label because they were seen as suburban 'hicks' from Inkster. She also recalls that as the Supremes' stars rose – along with Stevie Wonder's and the Temptations' – the Marvelettes received even less attention than before.

"They definitely looked down on us because of the fact that we were from a suburban area rather than from a Detroit area," she says. "I think it was from the inner office. Some of the people liked us but the others, I think, it's almost like we were talked about and laughed about. We were very marginalized. There was no promotion man, no nothing. They didn't do anything for us but fortunately we had enough fans that helped to carry us through. And basically, we started the whole thing, you know? We kicked the damn door open and everybody else walked through."

With Wanda Young now singing lead on the group's singles, the Marvelettes scored one last top 10 hit; 1966's Don't Mess With Bill, which peaked at number seven on the pop chart and number three on the R&B chart, becoming the group's second and last million-seller. In 1967 Gladys Horton left the group to get married and then become a mother. Her firstborn son, Sammie, was diagnosed with cerebral palsy, and in a 1985 interview with the Los Angeles Times she said she'd quit the business to care for him: "I didn't want to travel. I had to spend my time caring for my son."

Ultimately, the Marvelettes' career fizzled out. Motown fans are divided over Berry Gordy's allegedly poor treatment of the artists who helped put his label on the map. Like the old chicken/egg debate, the argument centers on whether groups like the Marvelettes received less promotion because their sales dropped, or their sales dropped because they received less promotion.

What's indisputable is that once the Supremes hit they became Berry Gordy's main priority, receiving clear preferential treatment over the label's other girl groups. Understandably, for groups like the Marvelettes whose early hit records had established Motown and, more importantly, bankrolled it, seeing the cash that their hits had generated being poured into promoting the Supremes while their own careers received little attention was particularly galling, not to mention humiliating.

That feeling only intensified when the remaining Marvelettes showed up for work at Motown's Detroit HQ one day in 1972 and discovered that the label had moved its entire operation to LA without telling them. Other artists left behind included Martha Reeves, who only found out about the move when she called the office after her maternity leave, and the house band – the Funk Brothers – who showed up at work one day and saw removal vans driving away from the building.

"You know what, I'm gonna just come out and be real with it," says Katherine Anderson Schaffer. "It was like a kick in the ass. Because that told you how important you were to [Berry Gordy]. He didn't think enough of any of us to say that he was moving or anything like that, so you knew your importance to him and your importance to the company."

Having left the group in 1967, Gladys Horton was spared the heartbreak of being left behind by Motown but she soon became embroiled in her own dispute with the label when, after the operation moved to Los Angeles, the Marvelettes stopped receiving their royalties.

"Myself, Georgeanna's son and Juanita had to file suit against Motown to get our royalties because we weren't paid, maybe for about three or four years, which we were entitled to," says Schaffner.

"Gladys wasn't involved in that suit but she reaped the benefits of it because she went on independently and got her royalties. We had to split them 50% with a company out of New York. But I felt that 50% of something beats the hell out of 100% of nothing – and we hadn't been getting anything."

After the collapse of her marriage, Horton spent the 1970s raising her three sons, Sammy, Vaughn and Alfonso. "Gladys would come to my house and bring her children with her," says Juanita Cowart Motley. "My two eldest girls, Wanda and Michelle, would babysit and Gladys and I would go out wherever. I considered Gladys as really a sister to me. She was very easy to talk to, a very down to earth person – a person that I could relate to.

"She really loved and cared about her children. They were the foremost thing in her life. Her main focus was her children and secondly was singing because she wanted to have an income for her children. She was a good mother."

"She was always a great mom," agrees Vaughn Thornton. "Me and my brothers were her life. On top of being a mother, she was also a sister, a dad – I didn't know my father at all – so she was filling in all those spots, you know? We always had a Christmas, a Thanksgiving, birthdays – and never any problems. I mean, she was just great. She was able to balance all of that and still perform."

When Horton decided to return to the stage in the 1980s she ran into another snag with Motown; the label had lost the rights to the Marvelettes' name. Concert promoter Larry Marshak had obtained the trademark and was touring fake groups of Marvelettes all over the country. Quite how that happened is an enduring mystery. Rumors, some of them emanating from the fake groups themselves, included claims that either Berry Gordy or Smokey Robinson had lost the name in a 'gambling game'. Whatever the cause, Horton and her former group-mates were now legally barred from touring under the name that they made famous.

Not that her fellow Marvelettes were particularly keen to join her; Schaffner was so outraged by the group's treatment that she no longer had any will to work in the music business, Cowart had quit touring after her 1962 breakdown and Wanda Young – now with a failed solo career behind her – had ongoing problems with alcohol abuse and mental illness.

The insults kept coming. When the famous Motown 25 TV special was put together in 1983, the Marvelettes weren't invited. The Funk Brothers bought their own tickets and watched from the back of the auditorium - the Marvelettes just didn't go. "For them to have TV shows and don't have all of us there, to try to make [us] feel bad – I think that's terrible," Horton said in a British radio interview in 1992. "[But] if people don't want us on the show – hey, I don't want to be on there."

In 1985 the old Hitsville studio opened its doors to the public as a Motown museum. When Horton visited in 1989, it was the final straw.

"I was shocked when I went there," she said in a 1992 interview. "All the groups that started the company – like the Marvelettes, Marv Johnson, Mary Wells, Martha Reeves and the Vandellas – you don't even hardly see any pictures of us… After I walked in there and I didn't see one good picture of the Marvelettes up, something told me right then, 'Gladys, you recorded here, you made a lot of history – you made a lot of people millionaires. You've done your share, never set your foot back in this place'. And I never will… I mean, why try to diminish us in that way?"


The Stalled Comeback

In 1989 British producer Ian Levine gathered together a host of former Motown acts including Gladys Horton and Wanda Young (by now Wanda Rogers) and got them to record new material on his Motorcity record label.

"Gladys Horton had become somewhat embittered after years of fake Marvelettes doing the rounds," Levine wrote in 2007, "…and the silky golden voice of Wanda Rogers had been stilled for eighteen years by mental health problems, nervous breakdowns and heavy drink abuse to the extent that she was rumored to be an alcoholic bag lady…

"Marv Johnson found her finally and brought her to me in Detroit. She looked embarrassing and was stone drunk, and everyone wanted to steer clear of her. But Kim Weston sobered her up... They still all said I'd never get a vocal out of her, but […] we persevered and got a vocal that sounded like the old Marvelettes that we knew and loved… When we next returned to Detroit, Wanda had a little more confidence back, especially when we brought Gladys in to work together with her again."

The Marvelettes…Now, featuring Gladys and Wanda together for the first time since the mid-sixties, was released in 1990. However, Motorcity was a small label and the album made little impact. Despite soldiering through the recording process, Wanda Rogers lost her confidence during the promotion stage. At a 1990 concert in Detroit, Rogers performed well in rehearsals but became nervous when the audience arrived and hit the whiskey. She got through the show but never performed again.

The following year Gladys Horton's son Alfonso was shot and killed. Shortly thereafter, Horton told her son Vaughn Thornton that she'd suffered a bout of Bell's Palsy. Thornton now believes this was actually a stroke. Although Horton continued to perform throughout the 1990s, friends say she retreated somewhat. Juanita Cowart Motley's letters began coming back unopened because Horton had changed address and not told her.

"That's when I really saw a change in my mother," says Thornton. "You know, losing Alfonso like that, it affected all of us, of course, but that really changed her. We dealt with it but she really didn't show a spark again until I had my daughter in 1992. When she saw her first granddaughter I saw that spark in her eye again, but she always missed Alfonso.

"There's been a lot of stress, you know. There were a lot of things going on and my mother tried to take it on herself. In '91 she had a bout with what she thought was Bell's Palsy but we're thinking now it was maybe the first sign of a stroke she'd had and it just went from there.

"She never properly was diagnosed but my mother was one of those that I can remember her having really bad headaches but she didn't go to the doctor, she tried to remedy herself at home. I didn't know the symptoms of strokes then but I'm hearing that headaches are really one of the symptoms of someone having a stroke.

"The point at which I remember having to step in and take over in a lot of her daily chores - that would have been in around 2005 or 2006. That's when I started really paying attention to my mother and the things she was doing."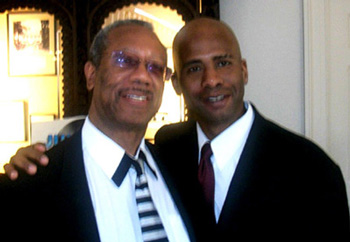 Former Temptations band leader Cornelius Grant poses with Gladys Horton's son Vaughn Thornton. (Photographer: Larry Buford)


The Last Days

In 2010 Katherine Anderson Schaffner tried repeatedly to contact Horton but couldn't get an answer. Worried, she called Vaughn Thornton.

"He told me that she was in a nursing home," she says. "From there I called her and talked to her. Then last year I went out to visit Gladys. I came back and I was totally devastated and I went into depression because I knew that my 50-year-plus friendship would eventually come to an end.

"I fell into this depression but I had to come out of it because I have had two strokes myself and my friends wanted me to snap out of it. They didn't want me to endanger my life by having another stroke because I was so concerned about Gladys."

Schaffner remained in touch with Horton and spoke to her for the last time between one and two weeks before her death. Sensing that the end was near, Schaffner made sure she thanked Horton for founding the Marvelettes all those decades ago and setting them on the path to stardom.

"I called her son and had him give her the phone. She had gotten pneumonia and she was raspy. With her having pneumonia and being raspy I didn't want her to say that much because I knew probably it took a lot of her. I told her that I really loved her; that she was one of my dear friends and I really loved her. I thanked her for making me a part of the Marvelettes and said that I was totally ecstatic about that and that I would keep up the Marvelettes name for as long as possible."

On January 26th Gladys Horton's vital signs slowed down and she passed away peacefully. Her death was in many ways the closing chapter of the Marvelettes story, which in itself is a sort of fable for our times; a window into the dark side of fame and a powerful reminder that the entertainment industry can be a cruel one.

Any chance of a Marvelettes comeback died with Gladys Horton. Georgeanna Tillman passed away in 1980 from complications of lupus and sickle-cell anemia. Wanda Rogers, friends say, is now in a home suffering with Alzheimer's. Juanita Cowart Motley, despite being the president of her local church choir, still has no desire to ever sing professionally again. Katherine Anderson Schaffner never intends to sing again either - but she does plan to keep the Marvelettes name alive.

In Horton's final years, Schaffner joined her in her crusade to regain the group's name and when Horton passed away they were in the final stages of doing so.

"I can say this with honors and very, very proudly - we own the name now," she says. "We proved we were the originals. We had the pictures and articles and all that kind of stuff, so we could definitely prove that we were the originals. We've been fighting Larry Marshak with attorneys since 2008. He's been constantly protesting it but I think it's good to go now."

With the name set to be returned to its rightful owners in the near future, Schaffner hopes she can use it to help launch the careers of another young girl group from Detroit.

"I'm looking for some girls to take and use the name," she says. "They can't use the Marvelettes name because none of the originals are involved but I have another named selected that I'd like to use, which is the Marvelettes Evolved.

"I'm not singing anymore, but now we have the name back I'd like to use it to give someone else a shot. They'll be an extension of the original group. We're going to keep the Marvelettes' memory alive."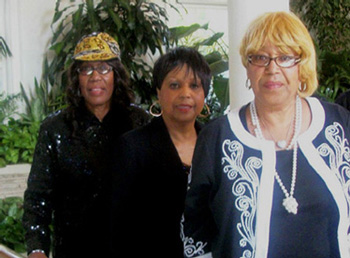 Georgia Dobbins, Juanita Cowart Motley and Katherine Anderson Schaffner at Gladys Horton's memorial. (Photographer: Larry Buford)