James Brown
Charles Thomson is recognised as an authority on the Godfather of Soul, James Brown. He has written about the star for publications including MOJO, Wax Poetics, JIVE, Sawf News and Orchard Times. Interviewing the singer's closest collaborators and confidantes, Charles has produced a string of in-depth features, which have won him the respect of the Mr Brown's friends and family. In 2009 he received a prestigious Guardian Award for an in-depth feature about James Brown's final years. His work on the star began with a brief interview shortly before the legend's death in 2006.
On Friday 27th October 2006 Charles was one of only two non-BBC journalists invited to a press conference with James Brown. The conference, held to promote the star's appearance at the BBC's Electric Proms festival, took place at Camden's Roundhouse. Specially invited by Brown's press officer, Charles spoke to Brown about his forthcoming album and briefly appeared on the BBC's 'Electric Proms Round-Up' documentary.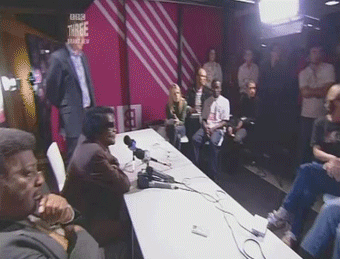 Since Brown's death in December 2006, less than two months after the BBC press conference, Charles has written about the star for various magazines and websites.
In February 2008 Charles was dispatched by US black music journal Wax Poetics to interview Brown's former bandleader, Fred Wesley. During the interview Wesley spoke about his work on Brown's final album and how he had coped with his mentor's death.
Three months later Charles attended the European premiere of David Leaf's documentary, 'The Night James Brown Saved Boston' and interviewed the director for a Wax Poetics feature.
Throughout 2008 Charles conducted extensive interviews with almost 20 of Brown's friends and colleagues in order to produce a comprehensive article about the star's unreleased final album 'World Funk Against The Grain' - the album Charles had discussed with Brown shortly before his death. The article, 'James Brown: The Lost Album', was published in JIVE magazine in May 2009 and earned Charles a prestigious Guardian award.
In June 2009 Charles produced a story for MOJO entitled 'Godfather's Farewell'. The story concerned the online release of James Brown's last known recording, 'I Still Stand', for which Charles interviewed the singer's friend and producer Derrick Monk.
In Spring 2010 the media was awash with stories claiming that James Brown's body had been stolen from its crypt. After speaking to two of Brown's children, Charles was the first journalist to issue a denial on behalf of the singer's family, published by Sawf News. He was later interviewed about the story on Los Angeles radio station KPFA-FM.
In October 2010 James Brown's widow, Tomi Rae Brown, granted Charles the most in-depth interview she had ever given to any reporter, speaking in detail about her life with James Brown, including his arrest for domestic assault in 2004 and his subsequent battle with cancer. The interview also produced the shocking revelation that trustees had ordered Brown's legs to be cut off in order to carry out a paternity test. The interview was published on Christmas Day 2010, the four year anniversary of Brown's death.
In February 2013 Charles published a feature titled 'The Big Payback', in which he interviewed James Brown's daughters about a series of charitable ventures they had fought to continue running in his name since his death in 2006. Brown's friend and producer Derrick Monk, also interviewed for the article, told Charles the article reduced him to tears.