Shoebury Paedophile Ring
In late 2016/17, Charles Thomson won two national awards after his long-running investigation into a historic paedophile ring in Shoebury, Essex, resulted in police reopening a 25-year-old case. The investigation was published by the Yellow Advertiser newspaper series, where Charles works as Chief Reporter.
In late 2016, the investigation earned him the 'Local Hero - Highly Commended' award at the British Journalism Awards. He was nominated in the only category at the ceremony which is reserved for regional press. The judges said: "Charles worked with a whistleblower to expose depravity and cover-ups. His entry was particularly impressive given the tight editorial resources on a free weekly local newspaper."
Then, in 2017, he won 'Weekly Reporter of the Year - Highly Commended' at the Society of Editors Regional Press Awards. In the same year, his investigation was selected, alongside work by national newspapers like The Guardian and the Sunday Times, to appear in a News Media Association exhibition on 'The Power of News'.
The story had begun in late 2014 when Charles discovered, amongst hundreds of compensation payments released under the Freedom of Information Act, that Essex Council had made 10 payments that year for alleged abuse in the 1970s and 1990s.
Charles compiled a list of basic questions about each case - such as the age and gender of each complainant at the time of the alleged abuse, and whether or not Essex Council had notified police about each allegation - for the council to answer.
The press office refused, telling him he would have to request the answers under Freedom of Information. Then, on Christmas Eve 2014, Essex Council rejected his Freedom of Information request, claiming that answering any of the questions - even a simple 'yes' or 'no' to whether the council had called police - could identify the alleged victims.
Incensed by the ludicrous response, Charles contacted two pressure groups - The National Association for People Abused in Childhood (NAPAC) and the Taxpayers' Alliance - who called for the questions to be answered and joined him in campaigning for transparency over the compensation pay-outs.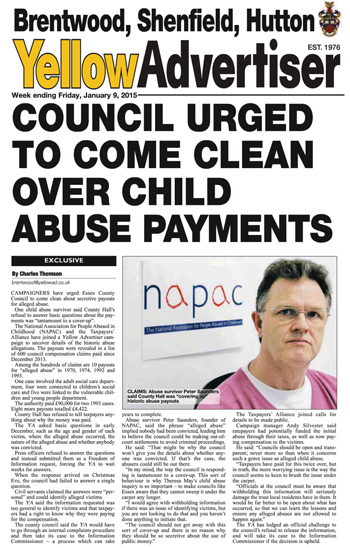 Charles published a series of front page stories about the council's refusal to answer basic questions, but the authority refused to give in and in fact began orchestrating further cover-ups. When Charles requested the same level of detail that the council had released about 2014, but in relation to previous years, it refused to release the details - a breach of the Freedom of Information Act, as the authority had already determined that it was right and in the public interest to do so.
Then, when members of the public requested that the already released 2014 data be issued to them as well, the council reclassified all of the 'alleged abuse' payments as 'personal injury' payments before it sent out the data - another breach of the act.
But while the council had effectively made it impossible for taxpayers to find out how long they had been paying compensation for alleged historic abuse, his stories had filtered out into the community and set in motion a chain of events which would lead, a year later, to a police investigation.
Shortly after the stories about the council cover-up were published, a whistleblower walked into the Yellow Advertiser's reception and asked to speak to Charles Thomson. His name was Robin Jamieson and he was the former District Psychologist for Southend. His work had required him to work on child protection issues with both Southend Council and Essex Council, and he had harboured deep concerns for decades that sexual abuse had not been properly investigated during the late 1980s and early 1990s.
Whilst Robin's recollections were clear and consistent, they were defamatory and uncorroborated. Charles liaised with Robin for several months to find a way to persuade Essex Council to acknowledge and respond to his allegations, enabling their publication.
In summer 2015 an opportunity presented itself. Robin decided to attend a 'whistleblowers event' organised by the WhiteFlowers child abuse campaign group, where he would address an audience of MPs and lawyers in a conference room at the Houses of Parliament, outlining his memories and concerns.
After Robin's speech, Charles sent a copy to Essex Council, telling the authority simply that it had been read out in Parliament and the Yellow Advertiser would be reporting its contents. In truth, the nature of the event meant Robin's comments were not covered by Parliamentary priviledge and if Essex Council issued a 'no comment', they remained unpublishable. But Essex Council took the bait and issued a lengthy statement from its leader David Finch, admitting knowledge of historic abuse allegations against its own staff and promising to fully investigate any concerns reported to it by whistleblowers. The admission ran as a front page exclusive.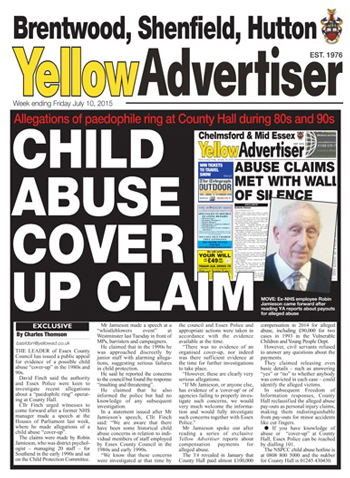 After Essex Council's admission, two more whistleblowers came forward - both with specific information about a historic paedophile ring in Shoebury, Essex, about which Robin also had knowledge. All three felt the original investigation - despite resulting in two paedophiles being convicted and jailed - had been flawed and should be reopened. However, their experiences in the case had left them distrustful of police.
Charles suggested the trio should meet with Essex Police Commissioner Nick Alston, whose job was to scrutinise the force and hold it to account. With the whistleblowers' permission, he contacted Mr Alston and arranged for him to meet them. Mr Alston found them 'eminently credible' and arranged for them to meet the Chief Constable, Stephen Kavanagh. After those meetings it was decided that the Shoebury case should be reinvestigated.
In early 2016, as police began organising specialist helplines for potential victims, Charles conducted lengthy, on the record interviews with the whistleblowers and with Mr Alston. On the eve of the formal police announcement and appeal, as a thank-you for having not reported the new inquiry before adequate victim support could be arranged, Charles was given the go-ahead to announce the reinvestigation in a series of exclusive online reports.
The story went national, covered by outlets including the Daily Mail and ITV News. Charles was interviewed about his investigation by BBC Radio and his work was reported on by PressGazette and HoldTheFrontPage. The following day, that week's Yellow Advertiser was published with a four-page special report about how Charles' work had sparked a police probe.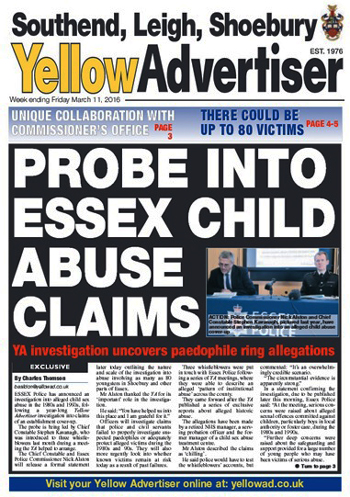 In the following weeks, Charles detailed the full extent of what was known about the Shoebury paedophile ring when it was first investigated. Contemporaneous documents, written by child protection workers who dealt firsthand with the victims and the police at the time, stated that although police only charged two men and each was only charged with a handful of offences, it was actually thought that there could be up to 80 victims and other offenders might have been involved. Some victims had begun self-harming, attempted suicide, become child prostitutes and, in one case, gone on to become a child abuser themselves.
After the police investigaton was launched, Charles beat officers to several key milestones. First, he tracked down a fourth whistleblower, conducted a lengthy interview and, when they confirmed they were happy to cooperate with police, introduced them to Mr Alston's office. The whistleblower had been co-author of a contempreporaneous report about the Shoebury paedophile ring, which had been in the investigating officers' possession for several months, but they had not contacted him.
Then, weeks after Essex Police told Charles it could find no record of either man convicted at the time having any other offences on their records, Charles obtained court documents showing one of them had a string of convictions spanning six decades, the most recent just six months prior to the Shoebury case being reopened.
The police investigation is ongoing at time of writing, as is Charles' investigation.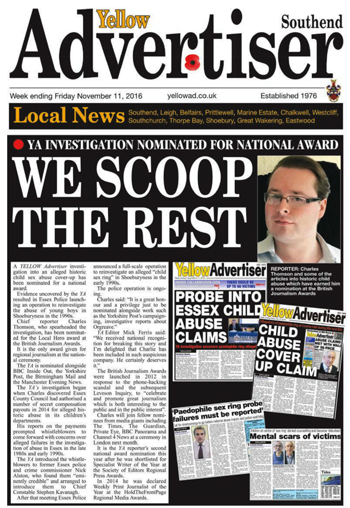 View Charles' Shoebury Paedophile Ring Stories